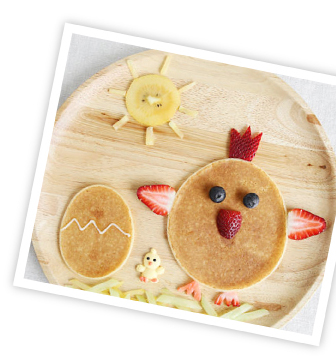 HOW CAN YOU ADJUST THE FAMILY MENU TO SUIT YOUR TODDLER'S NEEDS?
A big part of your toddler's habits are learnt during the process of eating meals with the family. So family meals are a very important component to a child's growing up.
Minor adjustments can be made to family meal to create a creative and exciting toddler's menu.
For example, if you are preparing a spicy dish for your family, set aside some rice, chicken and vegetables for your little one before you mix the other portion with spices meant for the family.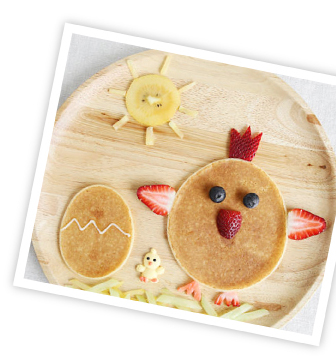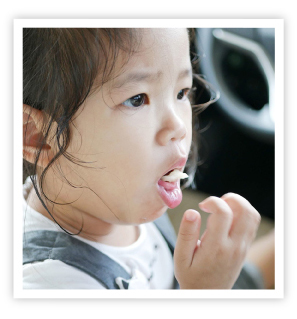 BEWARE OF CHOKING HAZARDS
If your child can eat a large portion of the food you eat, that is good, but avoid giving him food that requires a lot of chewing, until his molars grow.
Ensure the sizes are in small bites as some foods can cause choking.
Be extra careful with stringy vegetables (spinach, green beans), spiny fish, or white bread which can easily clot and block the little one's throat.
Unripe grapes, unpeeled sausages, nuts and popcorn can be dangerous as they are choking hazards.
Make sure you have mastered the technique to provide first aid (Heimlich manoeuvre) if your child is choking, so you can help him right away.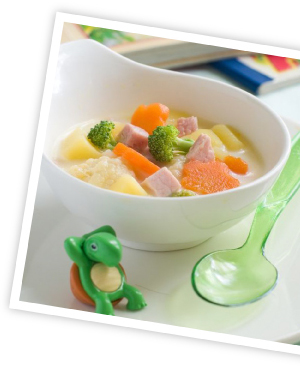 HOW TO SERVE YOUR BABY
Give a small amount of food first rather than one large plate like your meal. If he only eats a little, try to offer other foods.
Initially your child will learn to make food choices according to likes and dislikes. So, start with food that your child can pick up and chew easily.
When your child starts to switch from soft food to half-solid food, your child can now share the same adult meal when you cut food into small sizes. Now, she eats what you eat.